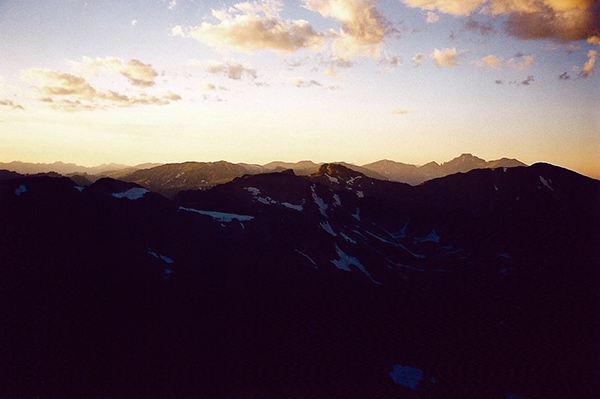 The surest task of an artist is the making of a self that has the capacity to create, and directing this creative capacity toward a significant direction. This task must be approached with great patience and commitment, understanding that self-as-artist is an every day & lifelong pursuit.
This making of self has meant finding what leads me, and pursuing the thread of that lead. Immersion in and appreciation of Nature has been a constant pursuit, twin to my pursuit of the arts, assuring that art and life retain the living quality of intuitive response.
Immersion in nature was, for a time, of a magnitude of order beyond what is normally possible. Through my late teens and all through my 20's my summers were on the Continental Divide above Boulder, Colorado at the Boulder Watershed. Most of those 12 summers were spent as Patrol/Caretaker, hiking the 8,000 acre property and keeping it free of all human trespassers. Two glacial valleys, 14 lakes, 5 thirteen thousand foot peaks, a herd of 70 elk, moose, bear, mountain lions, golden eagles, pica, pine martens, and cutthroat trout- I was the land's protector hiking 10 to 20 miles per day, with elevation gains and losses of more than 10,000 feet, mostly in the back country with no trails. This experience allowed a creative wayfinding that has allowed me to navigate the arts in a manner that listens with an intuition for intuition. In the way of constant walking- through forests, fording rivers, over mountains, the practice of immersive movement acts as a vehicle for artistic exploration, rather than an end in

itself.